Well, the election is finally behind us and we're looking at closing out 2016 soon and moving into 2017. What does that mean to me if I currently own real estate or would like to buy real estate in the near future or anytime next year in 2017? How long can this strong Seller's Market last if I'm an owner thinking about selling? How long will Interest Rates remain at the historical lows we've enjoyed for years now, making it less expensive to buy and own property now before the inevitable rise in our rates?
OWNERS/SELLERS
As Yogi Berra has said, it's Deja Vu all over again regarding our Real Estate Market and variables. Colorado, and significantly for us in Denver Metro and our northern communities, continues to recognize rapid population growth and demand to live and work in these regions and the Front Range. Per The Denver Post's reporting, between 2014-2015 Colorado was the 2nd fastest growing state in the US, from 2010-2015 we were the 4th fastest growing state. Denver continues to add more people than any other county, and Broomfield is the 9th fastest growing county in the US and has recently secured over $500 million in new economic development. Colorado's economy continues to show robustness and growth. There is no single industry that is driving our economic engine which reduces any "bubble" speculation or possibility (i.e. the energy sector in the Dakota's for instance). Naturally a strong economy attracts people, especially when coupled with everything else Colorado has to offer. Hence continued strong demand for housing.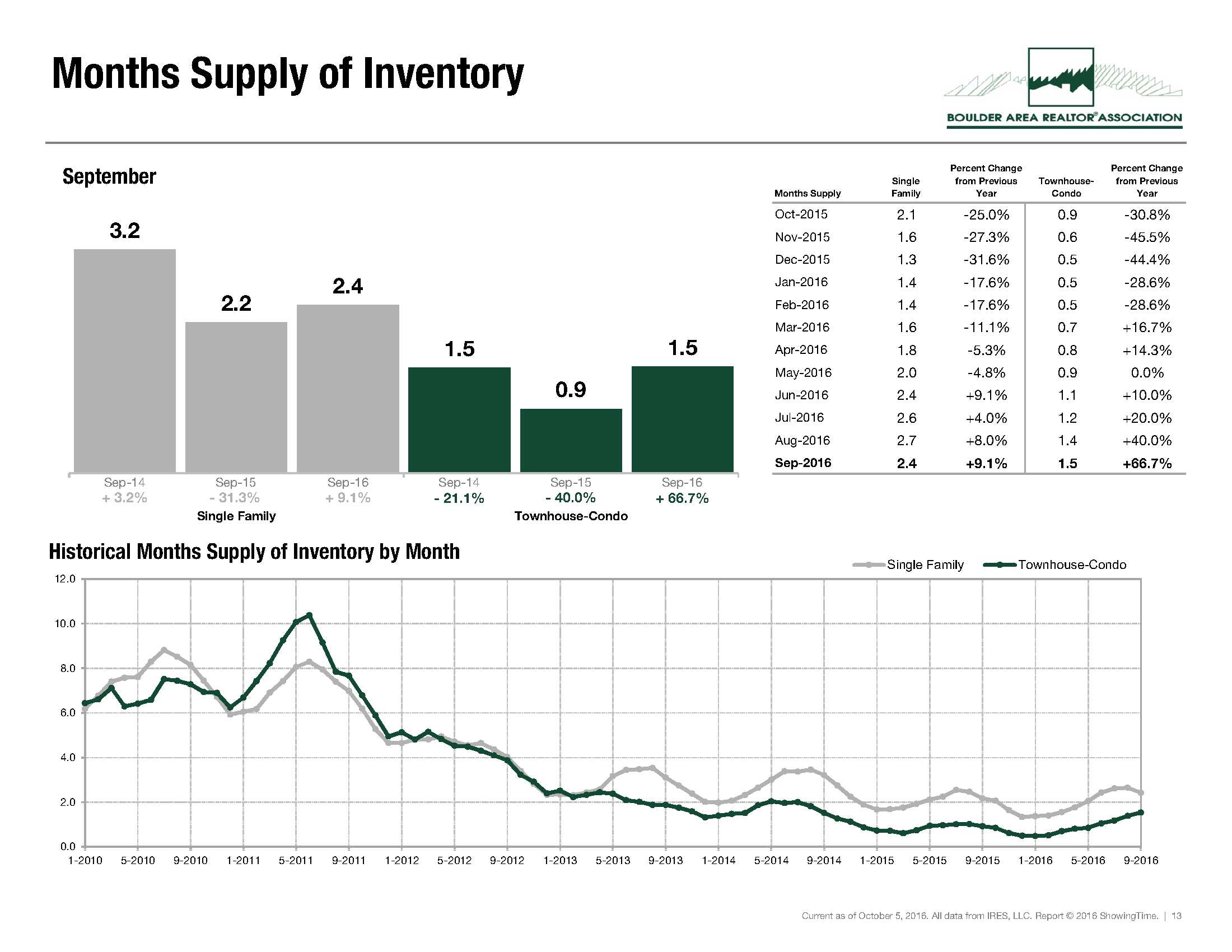 Single Family Homes have historically always been in greater supply over Condo's/Townhomes. The above chart and graph provides great visual and numerical perspective on the seasonality of our market when variable properties are placed on the market and historically what their inventory position has been. We've been in a very strong Seller's Market for some time as we've experienced record lows of inventory coupled with high demand for property. As of now the chart shows us that Single Family Home inventory is starting it's seasonal ebb, while Condo/Townhome inventory is continuing to climb. A "Healthy Market" will have 5-6 months of supply. Anything less and we're in a "Seller's Market", anything more and we're in a "Buyers Market". Our chart notes we're a little over 2 months for Single Family Homes and a little below 2 months for Condo's/Townhomes, so we're still in a strong Seller's Market; although over the last few months we're starting to show strength in year over year inventory increases, which is positive.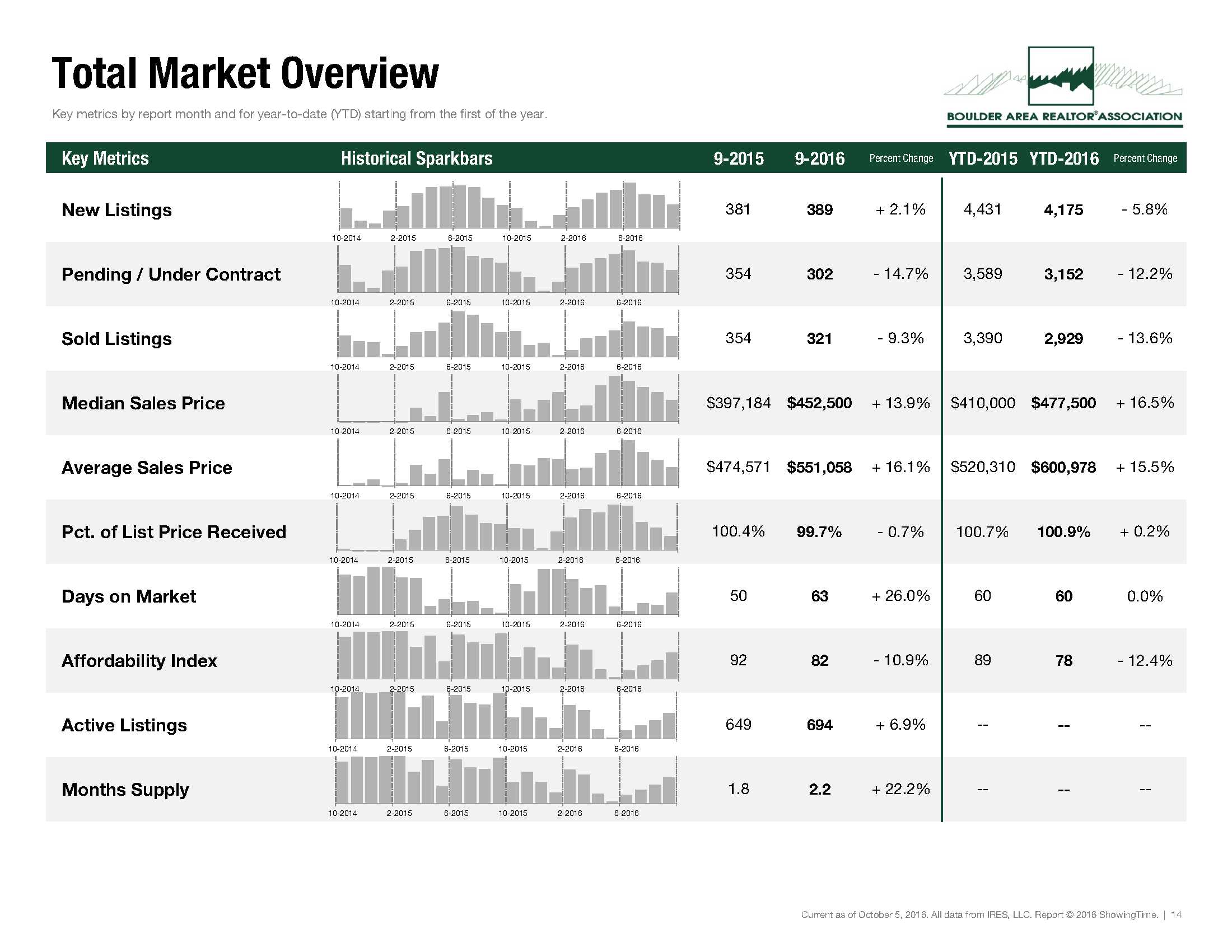 So, what does all of this mean to you the owner? We'll likely continue our trend of slowly building out and increasing our inventory position while retaining our Seller's Market with strong demand for properties. Market pricing for selling and renting property will also remain strong with continued expectation of appreciation in real estate throughout the year. The above chart notes our Median Sales Price increase year over year that supports that appreciation trend. We also have fewer New Listings, Pending-Under Contract, and Sold Listings year over year, which help support our increasing appreciation rate as well.
If you're interested in establishing your home's market value or thinking about selling, let us know and Kevin Chard will provide you with a Comparative Market Analysis (CMA) and Estimated Net Seller's Sheet for your review and reference. When you decide to move forward with Kevin in selling your home, he'll work with you on recommendations to make your property more appealing to a buyer. He'll introduce and manage vendor relationships, proposed projects, and quotes, project manage owner authorized projects, and facilitate all invoicing to work completion.
So, for 2017 we expect a repeat of activity from 2016. Strong Seller's Market, low lending rates (making it beneficial for buyers to seek new homes), continued net positive influx of people moving into Colorado, high demand for Buyers to purchase homes, and our local economy continuing to outperform the unemployment national average. 2017 looks to be another great year to either add to your existing investment inventory or to maximize your Return on Investment by selling your property. If you'd like to consult with Kevin about your property or review your real estate scenario and strategy, please be sure to reach out to him on his cell 303-931-9468 or via email at kevin@phoenixrealtyinc.com so he can schedule time to consult with you. Additional information regarding selling property may be found on our Real Estate website here.
RESIDENTS/BUYERS
What does this mean for those who want to purchase Real Estate this year? The good news is that interest rates for loans are still at historic lows. Rates are starting to creep up over last year and may slowly increase as 2017 progresses and we adopt new economic policy as a result of our election; that all remains to be seen. When mortgage interest rates rise, the cost of a home becomes more expensive, so if you're thinking about buying now it would be a great idea to speak with Kevin about starting your purchasing process. Kevin also has several mortgage lender referrals that would be a great place to begin to understand your budgetary needs of how much home you can afford, or more importantly how much you're comfortable investing and budgeting into for your new home.
Colorado is actively building new inventory all the time to meet our current and latent demand for housing, and we're entering a good time of the season for buyers now as well:
Fall and Winter draws out serious Sellers, as those who market their property at this time are serious about selling. Minimal amounts of "testing the water" scenarios by sellers who are just trying to see what the market will bring to their property, or who place an unrealistic sales price point on their property occur during this time due to the holiday season and work required to prepare a home to show.
Fall and Winter seasons generally feature minimal competition from other Buyers trying to purchase now also, as we're in the valley of our seasonal "Buying Season". Looking at the Total Market Overview chart above and the first line titled New Listings provides a graphical representation of our historic seasonal sales cycle. Inventory, Buyers, and Sales Prices all increase due to greater competition as we enter the Spring/Summer when it's easier to show homes. It's easier for families to move due to nicer weather, and once school vacation has begun. Our Fall/Winter season brings us less competition as inventory levels decrease coupled with less active buyers. A primary benefit of a seasonally cooled down market results in less heated offer prices for buyers (due to the competitive slowdown), versus market conditions at the apex of the sales cycle that would likely result in more competitive (i.e. higher) pricing.
If you're curious about our Real Estate market, the purchasing process, or would like a mortgage lender referral please be sure to reach out to Kevin Chard. Kevin has assisted a large number of our residents in transitioning from residency to home ownership over the years. Working with Kevin will streamline migration from your lease and move-out process from your rental property to home ownership in a quick and effective manner. Reviews from previous clients and his buying/sales history may be found on Trulia, His credentials are noted on our Phoenix Realty website here.
There's never a bad time to invest in a home for yourself or additional income properties, especially where interest rates are today. We look forward to hearing from you and wish everyone a great series of upcoming holidays!